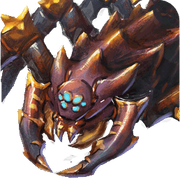 General information
You needed to spend a Terraknor Control to train and research Terraknors.
The developers clumsily ran a find-and-replace for Terraknors and the Terraknor in the game translations to Lancers, even in the historical messages, and Terraknor was not snagged.
There was a glitch in the game that allowed for the training of this unit, without any resource or cores, but exploiters of it were banned.  The exploiters have not told how they have done it yet.
Weaknesses:
Everything, including Kabam's artists
Strengths:
Stats
Range
Rate of Fire
Speed
Size
Training
Time
90
30
80
8
1
15m
Level
Damage
Health
Research
Defense
Time
Damage
Time
1
332
2,700
0
4h
−34
0
4h
2
350
2,940
1
6h40m
−68
1
8h
3
387
3,120
1
10h
−102
1
16h
4
400
3,300
1
16h40m
−136
1
1d8h
5
450
3,540
1
1d
−170
1
2d16h
6
950
7,500
1
1d
−204
1
3d11h20m
7
1,076
9,600
1
2d
−238
1
3d11h20m
8
1,626
13,200
1
2d
−272
1
3d11h20m
9
2,000
15,600
1
2d16h
−306
1
3d11h20m
10
2,380
18,000
1
3d11h20m
−383
1
3d11h20m
11
3,350
25,000
1
3d11h20m
−479
1
3d11h20m
12
3,650
25,000
1
3d11h20m
−599
1
3d11h20m
13
4,000
30,000
1
3d11h20m
−749
1
3d11h20m
14
5,000
35,000
1
3d11h20m
−937
1
3d11h20m
15
6,000
40,000
1
3d11h20m
−1,125
1
3d11h20m
Missions
Harness the Terraknor
"
Check in with Kira once a day.

Every day KIRA sends out drones to search for Salvage Boxes left behind on the battlefield. When she finds them she will hand them over to you.

"
Chitin Boost
"
Upgrade Terraknor to Level 2

It's amazing: Cerulean chitin bonds perfectly with our more resilient alloys. Not only will our Terraknor absorb more punishment now, but they'll hit harder, too.

"
Adrenal Targeting
"
Upgrade Terraknor to Level 5

Hidden Cerulean code within the Terraknor Controls has shown our lab how to synthesize an "attack pheromone." We can spray it on priority targets and watch the carnage unfold.

"
Project X: Terraknor
"
Upgrade Terraknor to Level 10

With no living Ceruleans around to interrogate, only the secrets of the Terraknor Box can help us unlock the highest combat control functions of a Terraknor Control.

"
Promotions
Daily Treat!, 2011 Oct 27
"
Daily Missions have arrived! These missions can be completed once each day, for bonus resources, XP, or items.

Your first mission is to get these Terraknor under control. They're tearing up the whole planet! Our scientists have created a huge number of Terraknor Boxes, and you can receive 8 Boxes for FREE each day!

All you have to do is log in and check your Daily Missions each day, now through Monday! (Oct 31) Celebrate Halloween with your own horde of Terraknor, and get ready to chow down on some bases!

"

—Edgeworld, Mail
Military Recruitment Event, 2012 Mar 13
"
Train the most Specters, Disruptors, Pulse Tanks, or Terraknors to win! Details in your mail.
"

—Edgeworld, Daily Update
marchtrainingterraknorwinner
| | | |
| --- | --- | --- |
| " | Your Terraknor army is enormous and terrifying! We've granted you a Warrior's Kit in recognition of your military expansion! You can find this new item in your inventory. | " |
Train Troops to Win, 2012 Mar 25
"
Train a massive army, and win Crates!

We want to find Commanders dedicated to expanding their armies and recruiting new troops. These Commanders could win Crates containing high-value items!
200 players who train at least 100 Rhinos will win a HELIO SALVAGE CRATE!
200 players who train at least 10 Terraknors will win an ERAZI SMUGGLER'S CRATE!
100 players who train at least 10 Disruptors will win an HOUR OF POWER CRATE!
100 players who train at least 5 Pulse Tanks will win an HOUR OF POWER CRATE!

Units must be trained and in your staging area by end of day 3/25! (Midnight PST, 7am UTC). Good luck!

"

—Edgeworld, Mail
marcharmyterraknor
| | | |
| --- | --- | --- |
| " | Your Terraknor army is enormous and terrifying! We've granted you a Erazi Smuggler's Crate in recognition of your military expansion! You can find this new item in your inventory. | " |
Rule the Sector: Omicron Canis Minorum, 2012 Mar 8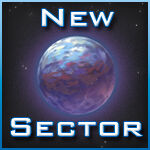 "
A new Sector has opened on Cerulea IV, Omicron Canis Minorum. As Commanders race to dominate, new rewards await those who triumph!

At the end of the day on March 9, the galactic overseers will examine the state of the Omicron Canis Minorum Sector and reward the following:

Every Level 8 Building: 1 KIRA's Gift
Every level 9 Building: 2 KIRA's Gifts
Every level 10 Building: 3 KIRA's Gifts
Every level 11 Building: 4 KIRA's Gifts

The 5 Alliances with the highest Map Score: 1 Terraknor Control for every member
The 100 highest level Commanders: 1 Helio Salvage Crate

Race to rule this new Sector!

We had lots of winners in our last new Sector contest in Trifid Nebula, and this time it's even easier to upgrade: 10 million and 20 million Resource bundles are 50% off! Upgrade now!

"

—KIRA, Kabam Forum
sectorwinnerterraknor
| | | |
| --- | --- | --- |
| " | Well done, Commander! Your Alliance is in control of the map, and your efforts have earned each member of your Alliance a Control Device. Check your inventory for this item! | " |
Terraknor Control Sale!, 2012 Oct 16
"
With Halloween just around the corner, Terraknor Controls are now on Sale!

For the next 24 hours, these Controls can be had for only 5 Platinum! Make sure to check the "Featured" or "Combat" section of the shop to get yours and stock up today!

"

—Edgeworld, Mail
Rise of the Terraknor!, 2012 Oct 29
"
Something is wrong with the Terraknor. Check your mail for more details!
"

—Edgeworld, Daily Update
"
Commander,

Remember when I told you that we had a safe and environmentally sound way of disposing of our research chemicals? About that...

The Terraknor may or may not have all died off due to some sort of chemical induced illness. We're lucky that the chemicals had a different effect on one of the other local creatures. They've become huge, and aggressive.

I call them "Lancers".

We should be able to use our old Control Devices to weaponize these new creatures, assuming we survive their initial assault.
Get to the Defense Simulator. Break them.

"

—Edgeworld, Mail
Introducing: the Lancer!, 2012 Dec 7
"
Congratulations, Commander! It has been weeks of hard-fought battles, but we have finally put down the rampaging Terraknor.


It should go without saying that between us and almost every other force on this planet that the Terraknor have been taken to extinction. No matter, as they were far too unstable for long term military application.
 That said, we have been able to re-purpose the Cerulea Controller items to be more general purpose, and I've already identified another specimen of Cerulean fauna that can be suitably….."weaponized":

 I call it the Lancer!

"

—Edgeworld, Mail
Revenge of the Lancer, 2013 Feb 8
"
Commander,

Remember when I told you that we had a safe and environmentally sound way of disposing of our research chemicals? About that...

The Terraknor may or may not have all died off due to some sort of chemical induced illness. We're lucky that the chemicals had a different effect on one of the other local creatures. They've become huge, and aggressive.

I call them "Lancers".

We should be able to use our old Control Devices to weaponize these new creatures, assuming we survive their initial assault.
Get to the Defense Simulator.
Break them.

"

—Edgeworld, Mail
Updated Platinum Package Bonus Items!, 2013 May 24
"
There are NEW bonus items in the 225, 400, 1000, 2500 and 5000 platinum packages!

We have removed the Pulse Core, 15-Minute Warp Boost, 15-Minute Troop Energizers, Combat Tactics and Terraknor[sic] Box items and replaced them with Onyx Cores, Decimator Boxes, Builders Boxes and Incendiary Boxes!

Get the best bonuses ever for your platinum package purchases today!

"

—Edgeworld, Mail