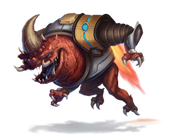 General information
[
]
| | | |
| --- | --- | --- |
| " | Armored alien that uses its powerful horn as a battering ram. | " |
Rhino is the defensive unit for the Tech Lab, along with Titans. Rhinos are weaker than Titans but tougher than Marines so they are good to distract defences while your other units destroy the buildings. They are often used by the Erazi Syndicate and paired with Hornets at lower levels.
Rhinos are unlocked with a Level 1 Tech Lab and must be researched before use is possible.
Strengths:
Very good health
Good training time
Weaknesses:
Horrible damage (least of any troop)
Warp size is not good, especially for low-level players with low-level warp gates
Speed is not ideal as swifter troops like Shrikes will move before Rhinos and end up taking damage.
Stats
[
]
Range
Rate
Size
Training
Time
15
30
2
30s
Level
Damage
Health
Speed
Training
Research
Defense
Time
Cores
Damage
Cores
Time
1
4
950
45
250
1,500
750
1m
−1
1,500
750
1m
2
6
975
45
265
5,000
2,500
1h
−2
5,000
2,500
1h
3
6
1,000
50
280
10,000
5,000
5h
−3
10,000
5,000
5h
4
8
1,025
50
295
10,000
5,000
10h
−4
10,000
5,000
10h
5
8
1,050
60
310
10,000
5,000
16h40m
−5
10,000
5,000
16h40m
6
10
1,100
60
325
10,000
5,000
1d
−6
10,000
5,000
1d
7
10
1,150
60
340
10,000
5,000
1d
−7
10,000
5,000
1d
8
15
1,800
60
355
10,000
5,000
1d
−8
10,000
5,000
1d
9
22
2,700
60
370
10,000
5,000
1d
−9
10,000
5,000
1d
10
87
5,400
60
385
10,000
5,000
2d
−12
10,000
5,000
2d
11
135
8,100
60
400
10,000
5,000
2d
−15
10,000
5,000
2d
12
180
8,100
60
400
10,000
5,000
2d
−19
10,000
5,000
2d
13
225
9,000
60
400
10,000
5,000
2d
−24
10,000
5,000
2d
14
300
10,500
60
400
10,000
5,000
2d
−30
10,000
5,000
2d
15
345
12,000
60
450
10,000
5,000
2d
−36
10,000
5,000
2d
16
400
13,500
60
450
12,000
6,000
2d
−42
10,000
5,000
2d
17
450
15,000
60
500
15,000
7,500
2d10h20m
−48
12,000
6,000
2d10h20m
18
500
16,500
60
600
15,000
7,500
2d14h20m
−56
12,000
6,000
2d14h20m
19
550
18,000
60
550
15,000
7,500
 2
2d20h20m
−62
13,000
6,500
 2
2d20h30m
20
600
19,500
60
650
15,000
7,500
 2
3d1h20m
−68
14,000
6,000
 2
3d1h40m
21
650
21,000
60
700
15,000
7,500
 2
3d6h20m
−74
15,000
7,500
 2
3d6h50m
22
700
22,500
60
550
15,000
7,500
 2
3d11h20m
−80
16,000
8,000
 2
3d12h