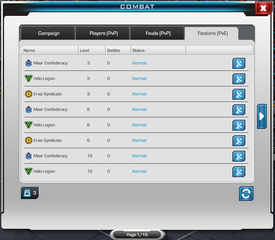 | Level | Total XP | Crystal | Gas | Energy | Lvl Needed |
| --- | --- | --- | --- | --- | --- |
| 3 | 208 | 180 | 180 | 0 | 2 |
| 6 | 620 | 1,200 | 1,200 | 0 | 4 |
| 10 | 1,040 | 1,800 | 1,800 | 0 | 7 |
| 15 | 1,876 | 4,200 | 4,200 | 0 | 10 |
| 20 | 2,871 | 6,000 | 6,000 | 0 | 14 |
| 25 | 3,622 | 7,500 | 7,500 | 0 | 17 |
| 30 | 6,652 | 22,500 | 18,000 | 0 | 20 |
| 40 | 9,524 | 18,000 | 18,000 | 0 | 27 |
| 50 | 15,819 | 27,000 | 24,000 | 0 | 34 |
| 65 | 24,816 | 60,000 | 60,000 | 0 | 44 |
| 80 | 31,383 | 135,000 | 135,000 | 0 | 54 |
| 100 | 37,442 | 337,500 | 337,500 | 0 | 67 |
| 125 | 62,367 | 262,500 | 337,500 | 0 | 84 |
| 150 | 94,760 | 450,000 | 300,000 | 0 | 100 |
| 200 | 110,529 | 1,399,996 | 1,699,996 | 0 | 134 |
| 250 | 282,282 | 525,000 | 525,000 | 0 | 167 |
| 350 | 567,972 | 2,000,000 | 1,550,000 | 0 | 234 |
| 500 | 755,310 | 1,125,000 | 1,125,000 | 0 | 334 |
| 600 | 812,459 | 1,775,000 | 1,400,000 | 0 | 400 |
| 750 | 379,544 | 1,125,000 | 1,125,000 | 600,000 | 500 |
| 1,000 | 2,253,411 | 3,550,000 | 3,250,180 | 0 | 667 |
| 1,500 | 3,701,010 | 6,550,178 | 6,849,998 | 0 | 1,000 |
| 2,000 | 5,075,652 | 6,325,180 | 6,025,000 | 0 | 1,334 |
| 2,500 | 4,299,630 | 3,000,000 | 3,000,000 | 0 | 1,667 |
| 3,000 | 7,195,405 | 3,000,000 | 3,000,000 | 0 | 2,000 |
| 3,500 | 7,688,655 | 3,600,000 | 2,400,000 | 0 | 2,334 |
| 4,000 | 10,175,776 | 3,900,000 | 4,200,000 | 0 | 2,667 |
| 4,500 | 9,300,973 | 4,800,000 | 4,800,000 | 0 | 3,000 |
| 5,000 | 12,279,510 | 5,400,000 | 5,400,000 | 0 | 3,334 |
| 5,500 | 13,549,090 | 5,400,000 | 5,400,000 | 0 | 3,667 |
| 6,000 | 16,831,005 | 6,600,000 | 6,600,000 | 0 | 4,000 |
| 6,500 | 19,992,210 | 7,200,000 | 7,200,000 | 0 | 4,334 |
| 7,000 | 23,210,110 | 7,200,000 | 7,800,000 | 0 | 4,667 |
| 7,500 | 17,107,780 | 6,600,000 | 7,800,000 | 0 | 5,000 |
| 8,000 | 26,168,670 | 7,800,000 | 6,000,000 | 0 | 5,334 |
| 8,500 | 19,156,010 | 7,800,000 | 7,200,000 | 0 | 5,667 |
| 9,000 | 21,538,405 | 7,200,000 | 7,200,000 | 0 | 6,000 |
| 9,500 | 22,605,270 | 7,200,000 | 7,200,000 | 0 | 6,334 |
| 10,000 | 36,876,840 | 8,400,000 | 8,400,000 | 0 | 6,667 |
| 12,000 | 32,332,121* | 2,175,000 | 2,175,000 | 0 | 8,000 |
| 18,000 | 61,704,061* | 3,025,000 | 3,025,000 | 0 | 12,000 |
| 24,000 | 60,565,225* | 3,875,000 | 3,875,000 | 0 | 16,000 |
| 30,000 | 122,635,865* | 4,475,000 | 4,475,000 | 0 | 20,000 |
| 40,500 | 157,685,175* | 10,750,000 | 10,750,000 | 0 | 27,000 |
| 51,000 | 220,347,897* | 12,550,000 | 12,550,000 | 0 | 34,000 |
| 61,500 | 309,998,098* | 14,450,000 | 14,450,000 | 0 | 41,000 |
| Level | Total XP | Energy | lvl Needed |
| --- | --- | --- | --- |
| 3 | 292 | 720 | 2 |
| 6 | 672 | 2,400 | 4 |
| 10 | 1,152 | 6,000 | 7 |
| 15 | 1,600 | 5,400 | 10 |
| 20 | 2.883 | 13,500 | 14 |
| 25 | 3,400 | 13,500 | 17 |
| 30 | 6,016 | 27,000 | 20 |
| 40 | 9,911 | 120,000 | 27 |
| 50 | 13,812 | 39,000 | 34 |
| 65 | 25,782 | 112,500 | 44 |
| 80 | 34,443 | 240,000 | 54 |
| 100 | 40,667 | 637,500 | 67 |
| 125 | 65,288 | 825,000 | 84 |
| 150 | 88,904 | 912,500 | 100 |
| 200 | 115,693 | 750,000 | 134 |
| 250 | 208,234 | 1,225,000 | 167 |
| 350 | 32,1372 | 3,050,000 | 234 |
| 500 | 661,062 | 3,675,000 | 334 |
| 600 | 909,876 | 4,250,000 | 400 |
| 750 | 1,477,212 | 4,725,000 | 500 |
| 1,000 | 2,182,812 | 5,350,000 | 667 |
| 1,500 | 3,825,132 | 5,975,000 | 1,000 |
| 2,000 | 3,755,283 | 7,525,000 | 1,334 |
| 2,500 | 4,014,243 | 4,200,000 | 1,667 |
| 3,000 | 7,264,936 | 5,400,000 | 2,000 |
| 3,500 | 5,210,244 | 4,200,000 | 2,334 |
| 4,000 | 8,927,864 | 5,400,000 | 2,667 |
| 4,500 | 12,245,552 | 7,800,000 | 3,000 |
| 5,000 | 13,000,950 | 7,200,000 | 3,334 |
| 5,500 | 12,942,990 | 7,800,000 | 3,667 |
| 6,000 | 19,763,885 | 8,400,000 | 4,000 |
| 6,500 | 16,717,680 | 9,000,000 | 4,334 |
| 7,000 | 16,967,705 | 9,000,000 | 4,667 |
| 7,500 | 15,110,120 | 9,600,000 | 5,000 |
| 8,000 | 23,365,170 | 9,475,000 | 5,334 |
| 8,500 | 21,245,215 | 10,200,000 | 5,667 |
| 9,000 | 30,796,180 | 10,800,000 | 6,000 |
| 9,500 | 20,075,610 | 11,400,000 | 6,334 |
| 10,000 | 27,016,990 | 12,000,000 | 6,667 |
| 16,000 | 55,482,655* | 3,425,000 | 10,667 |
| 22,000 | 74,325,569* | 4,075,000 | 14,667 |
| 28,000 | 80,203,834* | 9,350,000 | 18,667 |
| 37,000 | 122,880,602* | 10,950,000 | 24,667 |
| 47,500 | 224,270,955* | 12,750,000 | 31,667 |
| 58,000 | 282,073,625* | 14,549,995 | 38,666 |
| 70,500 | 574,092,420* | 8,175,000 | 47,000 |
| Level | XP | Uranium | lvl Needed |
| --- | --- | --- | --- |
| 3 | 331 | 360 | 2 |
| 6 | 614 | 2,400 | 4 |
| 10 | 1,324 | 5,700 | 7 |
| 15 | 1,848 | 3,600 | 10 |
| 20 | 3,096 | 12,000 | 14 |
| 25 | 4,085 | 13,500 | 17 |
| 30 | 6,408 | 37,500 | 20 |
| 40 | 9,577 | 45,000 | 27 |
| 50 | 14,382 | 45,000 | 34 |
| 65 | 22,157 | 187,500 | 44 |
| 80 | 29,200 | 360,000 | 54 |
| 100 | 36,795 | 825,000 | 67 |
| 125 | 62,286 | 712,500 | 84 |
| 150 | 117,048 | 1,025,000 | 100 |
| 200 | 129,365 | 712,500 | 134 |
| 250 | 166,608 | 1,050,000 | 167 |
| 350 | 454,464 | 3,800,000 | 234 |
| 500 | 678,453 | 3,825,000 | 334 |
| 600 | 668,255 | 2,700,000 | 400 |
| 750 | 1,295,116 | 4,675,000 | 500 |
| 1,000 | 2,087,872 | 5,350,000 | 667 |
| 1,500 | 3,379,984 | 6,575,000 | 1,000 |
| 2,000 | 5,519,460 | 9,625,000 | 1,334 |
| 2,500 | 5,286,060 | 4,200,000 | 1,667 |
| 3,000 | 5,086,900 | 4,800,000 | 2,000 |
| 3,500 | 7,283,250 | 5,400,000 | 2,334 |
| 4,000 | 9,870,615 | 6,000,000 | 2,667 |
| 4,500 | 9,561,200 | 6,600,000 | 3,000 |
| 5,000 | 10,957,371 | 6,900,000 | 3,334 |
| 5,500 | 9,802,841 | 7,500,000 | 3,667 |
| 6,000 | 16,753,476 | 8,100,000 | 4,000 |
| 6,500 | 20,041,035 | 9,000,000 | 4,334 |
| 7,000 | 15,316,850 | 9,000,000 | 4,667 |
| 7,500 | 26,442,710 | 9,600,000 | 5,000 |
| 8,000 | 22,952,655 | 10,200,000 | 5,334 |
| 8,500 | 17,590,170 | 10,200,000 | 5,667 |
| 9,000 | 33,255,910 | 10,800,000 | 6,000 |
| 9,500 | 19,596,306 | 11,400,000 | 6,334 |
| 10,000 | 27,377,350 | 12,000,000 | 6,667 |
| 14,000 | 28,185,318* | 2,375,000 | 9,334 |
| 20,000 | 67,543,755* | 3,875,000 | 13,334 |
| 26,000 | 112,896,405* | 4,475,000 | 17,334 |
| 33,500 | 103,860,894* | 10,350,000 | 22,334 |
| 44,000 | 184,753,980* | 12,150,000 | 29,334 |
| 54,500 | 223,420,137* | 13,950,000 | 36,334 |
| 65,000 | 409,302,960* | 15,750,000 | 43,334 |
Resources and XP are base values without boosts and without using Raiders. Raiders allow you to loot more resources from an attack.
*Note that the XP reported here for these levels assumes the destruction of Neutron Mines. If you destroy the base without hitting all the mines you well get a slightly lower XP than is reported here.
News
[
]
New Faction Bases are Here!, 2012 Dec 19
[
]
"
The Maar, Erazi, and Helio factions have grown weary of constant, unrelenting defeat. They have spent months researching new technology and running hundreds of tests on unsuspecting Pyros. Now they are ready to reveal the fruits of their labor: shiny new bases!

To see if they have you stumped, or to simply remind them who's boss, you can challenge these factions either through the Combat menu!

Good luck, Commander - you just might need it!

"

—Edgeworld, Mail
New PvE Bases above 10K were added.
Kabam did not create missions for all 3 Faction Bases for each Level after 10K. This is likely a Bug or omission since if your Player is of high enough Level your "Daily Mission" (viewable by pressing the "Mission Button" in the far lower right corner of the Screen) called "Stomping Grounds" will ask you to "Defeat a Helio base of level 12,000 or higher". There is no Helio Base of exactly 12K, only higher leveled ones; whereas a lower Level Player will get Missions that are less than 10K and there are Faction Bases of exactly the Level called for.
Now there are no missions after 70K.